Lets do it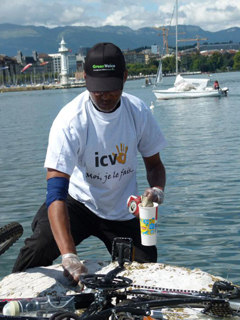 On 27 August 2014, ICVolunteers organized a citizen day to clean riverbanks and the lake in the Geneva area. This event was put together in collaboration with the City of Geneva in order to collect trash in different locations of the City.
70 volunteers participated in the event and collected about 100 kg of waste in two hours. The aim is to raise awareness among Geneva citizens and nurture an approach to sustain the environment and reduce the risk of pollution of rivers (in this case the Rhône) and the Lake Geneva.
Guillaume Barazzone, Administrative Councillor in charge of the Department of the urban environment and security of the City of Geneva came to thank the teams at the end of the day.
These efforts are part of the continuous efforts and activities of the GreenVoice program, which aims to raise awareness among citizens about environmental issues.